on
October 23, 2016
at
8:31 am
Having already taken my cash for the Christmas cookbook that I announced a few days ago, Hallmark's website announced not one but two more Christmas-themed Peanuts books, designed specifically to drag money out of my pocket and place it other places!
On one hand, we have another one of those Itty-Bittys books, this one equipped with two of the Itty-Bitty stuffed figures (although Hallmark in their product description calls them "stuffed animals". Charlie Brown gets no respect.) The plot description of It's a Tree-Tumbling Christmas, Charlie Brown leaves me to believe that, unlike the prior Itty-Bittys Peanuts book, it is not derived from a TV special. It's a tale of Snoopy having messed up a Christmas tree and its needing to be fixed. That doesn't sound like it's based on A Charlie Brown Christmas to me!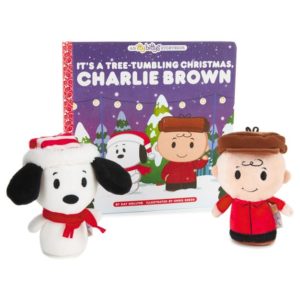 However, I suspect that the other book newly launched is based on A Charlie Brown Christmas. That is due to a combination of my careful detective work and to the fact that the book is titled A Charlie Brown Christmas: a Hallmark Lighted Pop-Up Book.
Will you be hearing more from me on this soon? Yes, yes you will.